The San Francisco Giants and the Kansas City Royals will soon face each other for the World Series. How are San Francisco radio stations showing support for their home team?
By banning Lorde's "Royals".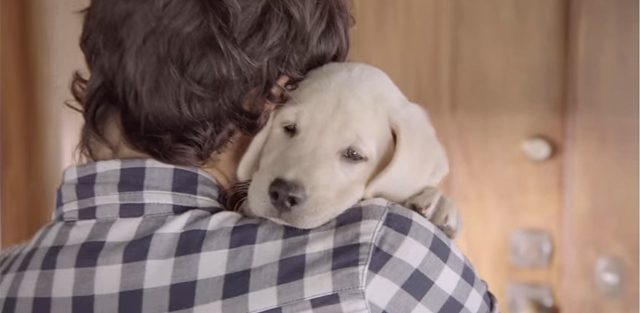 Chances are that you've seen the tear-jerker, anti-drunk driving Budweiser commercial about the dude and his puppy. You know, the dog eagerly waits for his scruffy twenty-something owner to come home after a night of drinking, but doesn't… until the next morning where dude apologizes to dog and says "I decided I shouldn't drive home last night. I stayed at Dave's."
It currently has over 19 million views on YouTube and is starting to air on television. It played during last night's Sunday Night Football.
The most frequent comment on YouTube is "What is the song? Who is it by?"
Good question Budweiser! The song is so prominent and featured, but there's no mention of the artist in the YouTube description. And there are no annotations on the video linking people to iTunes.
Last week we posted the news that Google is making it extremely easy to search Grooveshark, who has been found guilty of massive copyright infringement.
Google has just released a new piracy report, and posted a blog post bragging about their piracy-fighting efforts. The biggest news is changes to search results for movies and music.
Google has rolled out new ad formats for people searching for free movies. These ads link to sites like Amazon or Walmart, where people can pay to watch the movie online.
They've also pointed out that searches for artists or albums often bring up links to Spotify, VEVO, or other "legitimate" services. This has been in place for a while.
WEA (a division of Warner Music Group) has acquired Playlists.net, a site that curates and aggregates Spotify playlists. Financial terms of the deal have not been disclosed.
CrunchBase says that up until now, Playlists.net had raised a total of £600,000 ($ 765,000) in funding. The site claims to have 1.5 million users per month.
paper bag, wet.  (photo by evan p. cordes (cc by 2.0))
If the major labels have cratered, who gets to fill the void?
Perhaps artist managers, a group that sometimes finds itself babysitting artists, and other times investing in multi-billion startups (music or otherwise).  Enter the freshly-steroided Maverick, which old-timers will remember as the label originally co-founded by Madonna and helmed by Guy Oseary.
Now, Maverick will bulk into a consortium of various management groups from various genres, with Live Nation Entertainment joining the fun.
So far, these guys suck at hype: according to a strangely-timed Friday evening announcement in Billboard that hasn't been making ripples, the other players in the gang include:
Laffitte Management's Ron Laffitte
I Am Other's Caron Veazey
Blueprint Group's Gee Roberson and Cortez Bryant
Reign Deer's Larry Rudolph and Adam Leber
Quest Management's Scott Rodger
Spalding Entertainment's Clarence Spalding
Live Nation, painfully played by the shrewd super-manager Irving Azoff in a deal gone bad, is aiming to re-enter the management arena as part of the consortium.  That makes sense, as Live Nation itself is benefiting enormously from being able to actually charge for music (unlike labels).  But insiders point to a business that puts big branding deals way ahead of actual ticket sales (just ask Live Nation exec and former MP3.com co-conspirator Joe Fleischer).
And where's Troy Carter?  The manager famous for guiding Lady Gaga in her glory days is now apparently minting plenty as an investor, and might be a nice addition to the cast.  Meanwhile, Oseary is no slouch in the investment world either, with music and non-music companies under his 'A-Trak' moniker spanning Airbnb, Uber, Spotify, Soundcloud, and INDMusic (they do YouTube stuff, look them up).
But what would you say this consortium will DO around here, anyway?
Let's see…
The post How Many Managers Does It Take to Save an Industry? appeared first on Digital Music News.

Paul Resnikoff
Digital Music News